Bangalore: A blast rocked Bangalore's Malleshwaram, a largely residential area, just 100 metres from the ruling BJP's office this morning, injuring 16 people, including 11 policemen and two teenaged girls.
The explosion occurred at around 10.30 am. Today was the last day for filing nominations for the Karnataka assembly elections to be held on May 5, and many workers and candidates were expected to be at the party office.
Karnataka's home minister R Ashok, who is also the deputy chief minister, described the blast as "terrorist activity" deliberately targeted at BJP workers.
Security is tight in the state capital with elections round the corner and a van full of Karnataka State Reserve Police personnel stationed near the BJP office bore the brunt of the blast. It was among several vehicles that went up in flames. (Pics) The policemen and others injured were taken to hospital; no one has critical injuries, though some have complained of problems with hearing, doctors said.
The blast also shattered windows of buildings nearby. Among the burnt vehicles and pieces of glass lay a mangled motorcycle that the police suspect the bomb was planted on. The motorcycle, the police said, was stolen and its Tamil Nadu licence plate was fake.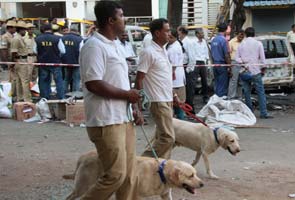 Police said about 2 kg of explosives were used in the blast. Intelligence agencies have said the bomb appeared to have been an Improvised Explosive Device or IED.
Teams of premier central agencies like the National Investigation Agency (NIA) and the National Security Guards (NSG) are conducting investigations at the blast site; forensic teams are scouring the site for clues.
The police said they are also studying close circuit television or CCTV footage from a camera at the BJP office for clues.
Not long after the blast, a tweet by Congress spokesman Shakeel Ahmad sparked a political war of words. Mr Ahmad tweeted, "If the blast near BJP's office in Bangalore is a terror attack, it will certainly help the BJP politically on the eve of election."
The BJP has slammed Mr Ahmad's remarks as "insensitive and condemnable". The Congress has distanced itself from Mr Ahmad's comment.
Source: NDTV